The calm
Posted on Thu 21st June 2012 9.46PM
Things have been a bit quiet for the last month. Lots of little developments are going on behind the scenes to get ready for the big ramp up.

I've been working on the site to make it a bit more user friendly, whilst also adding some detail to the theme. It should look nice whatever size screen you have and if you run an obsolete browser the effects will now fail gracefully.

The game has taken many steps forward and a few steps back. A shakey motherboard cost me a lot of time and lost a small amount of work. It's not a problem though, as everything gets iterated constantly during development, so chances are it would have been redone anyway. I've upgraded my rig now and its obscenely fast, which will speed production along significantly.

The renderer is almost completely done, with most of the core shaders ready. Gameplay is now at the front of my mind now. Rooms can be created and lights and furniture placed. Animation code is mostly in and I hope to start adding AI agents this weekend. Once we have that I can start seing how things interact and where I need to take them.

I now have six people working on the project on and off. Its really great to check my emails every morning and find them full of new art and ideas! In fact, its all looking so good I want to show it to you...

I'm going to be putting out an awesome media release as soon as our twitter account reaches 1999 followers. If you follow it and re-tweet this tweet you will be entered into a competition to win a unique poster print of one of our amazing concept illustrations.

So quick! Get re-tweeting!

Heres a teaser: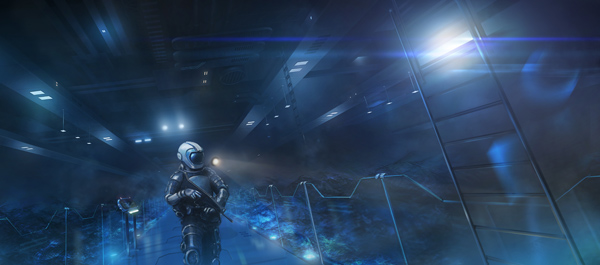 -Simon


No Comments.
Comments have been disabled.