Doing it Wrong
Posted on Thu 6th September 2012 5.19PM
It's been a pretty strange week. I shared a quick video of the first person mode. It wasn't finished. I didn't even think to put this site's URL in the video.

Four days later and its got 18000 hits on Youtube. The site pushed 6GB of traffic in a day. Twenty Seven thousand people hit the site in an afternoon. I've had two major digital distributors email me.

But I'm not sure what I've learnt from all this. I don't have a demo out, I'm still refusing to take preorders and my media releases are patchy. I'm yet to write a single press release. The website is painful to read and makes irritating noises. In fact, by conventional standards, I'd say I'm probably doing everything wrong.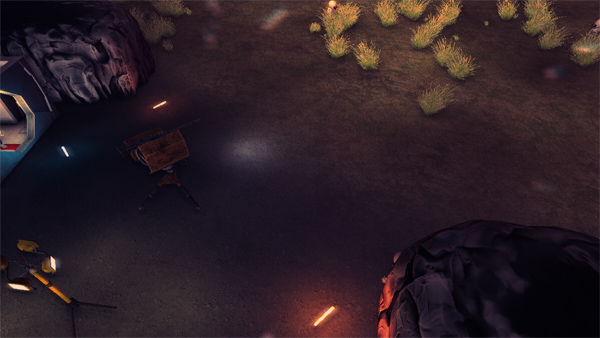 So why is this working? I think, firstly, being honest about the game works. Talking to the community, engaging and discussing with them, is so important. Not for marketing, but genuinely addressing peoples expectations, taking on board their ideas and criticisms. I'm pretty surprised that on several forums and message boards I have had people thanking me for honestly talking to them about the game. If you are indie, and not actively reaching out to your community, then you are doing it wrong.

Secondly, and perhaps more importantly, the game just seems to sell itself. Indeed even the concept of the game sells itself. People always get excited and barrage me with questions about what will happen when the lava hits water, or whether you'll be able to tame alien fauna for pets. This was something I was hoping for, as I love lighting up the imagination of others. Its all well and good showing off your own creativity, but appealing to the creativity of your audience is leagues above.

So what now? Well as I've said before this month is going to be quiet from me, I've got a bit of research to do and a Thesis-like document to write. However I've got character artists doing colonist models ready for animation. Work on the interface and core gameplay will grind on too and I'm also hoping to get some of the aliens into production. If all goes well, the start of October will be a period of intense crunch on the game. The result, will be some reasonably polished gameplay footage and the basis of a future releasable alpha.

-Si

(
5
) comments :
Comment by @Haze2k1 on Thu 6th September 2012 6. 28PM
Keep up the great work.
Comment by Cheater on Thu 6th September 2012 8. 22PM
Keep it wrong and you'll do right.
Haven't seen anything good for 12 years. Modern games suck.
You are the hope.
Comment by Jason on Fri 7th September 2012 1. 29AM
Keep up the fantastic work. I'm shocked that a single develop can put together such a good looking game. Being hooked by the older BullFrog Sims like ThemePark, and murky foot's Startopia, this look like a very interesting game \ concept. Cant wait for a release....
Comment by ZACAJ on Fri 7th September 2012 2. 02AM
I don't know about other people, but I've always felt your blog posts were... sort of sparse and undetailed
Comment by UsF on Wed 10th October 2012 2. 49PM
You are doing everything wrong, for example I still can't play your game. ;)
Keep up the media hype, I mean good work.
Comments have been disabled.